Communications, notifications and automations
The unique tool for managing communications with administrative users, teachers, students, parents and client companies.
User communications
Sending messages filtering by user type, courses attended, subjects and teachers, and any personal data and profiling field.
Notifications
Customizable instant notifications relating to changes in timetables, administrative pending, teaching activities.
Automations
Sending communications and activities based on courses status and progress and open administrative positions.
PUSH NOTIFICATIONS on the APP
Through the App for mobile devices dedicated to teachers, students and parents of students, communications and notifications can be delivered via push notification, in an unlimited way.
E-mail messages
Multiple institution e-mails can be configured in the system, so that every communication and notification can be sent with the correct e-mail. For example, you can use an email dedicated to reminders of payments and sending invoices, and a different email for educational activities.
SMS messages
The system also allows you to use text messages, with the possibility of customizing the sender's name and with guaranteed delivery.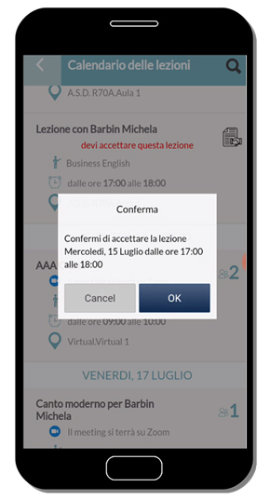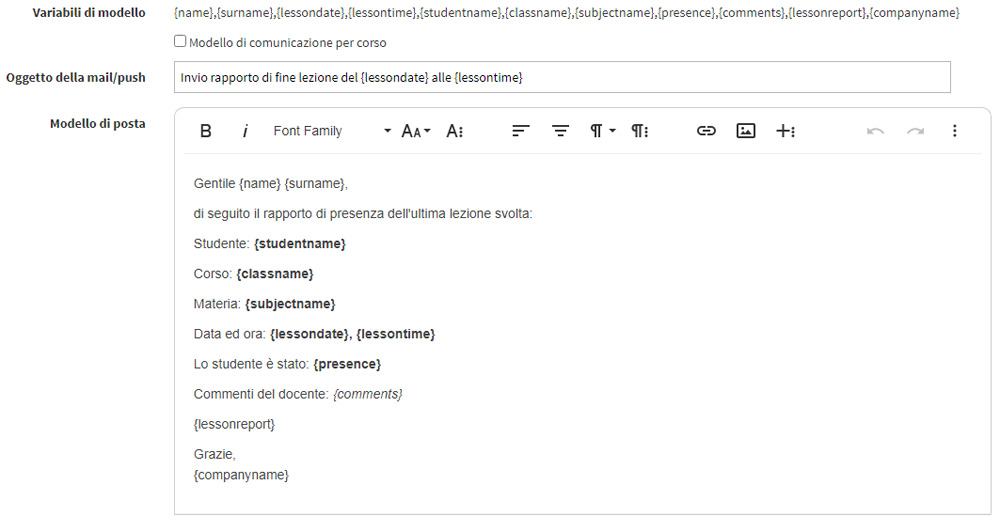 Communication Models
A dedicated section contains a series of communication templates and default notifications, which can be used to communicate and inform system users. All models have the PUSH, E-MAIL and SMS versions, and each can be modified and customized according to your preferences. 
Model variables (placeholders) relating to personal data, courses and payments can also be used, so that the data contained in the messages can be dynamically enhanced based on the context and recipients. Custom communication templates can be created, which can be used for recurring communications.
Reminder of the next lesson to students and teachers 
Notification of cancellation or postponement of the lesson 
Notification in case of student absence 
Notification of participation in an online class (with the link to the meeting) 
End of lesson feedback notification 
Notifications about student bookings 
Notifications regarding the operations performed by the teachers 
Sending the weekly timetable to teachers 
Reminder to teachers about inserting assessments 
Notification to teachers of the presence of a new student, with indication of the new lesson timetable
Notify users of a payment due or overdue 
Communication for sending invoices and receipts 
Sending of quotes and commercial offers 
Automatic renewal communication (in case of monthly subscriptions or packages of lessons or hours) 
Notice of online made payments  
Notice of new enrollment via online enrollment form
Sending automatic emails to teachers, students or the secretariat based on the status and progress of the course. For example, sending a specific email three days before the course start date, mid-course or three days after the end of the course. 
Automatic delivery of quizzes and surveys based on course progress
Want to try the system?
Activate the free one-month demo and book an explanation and discussion session with our staff.